Sierra Ventures CXO Tech Survey Results - 2020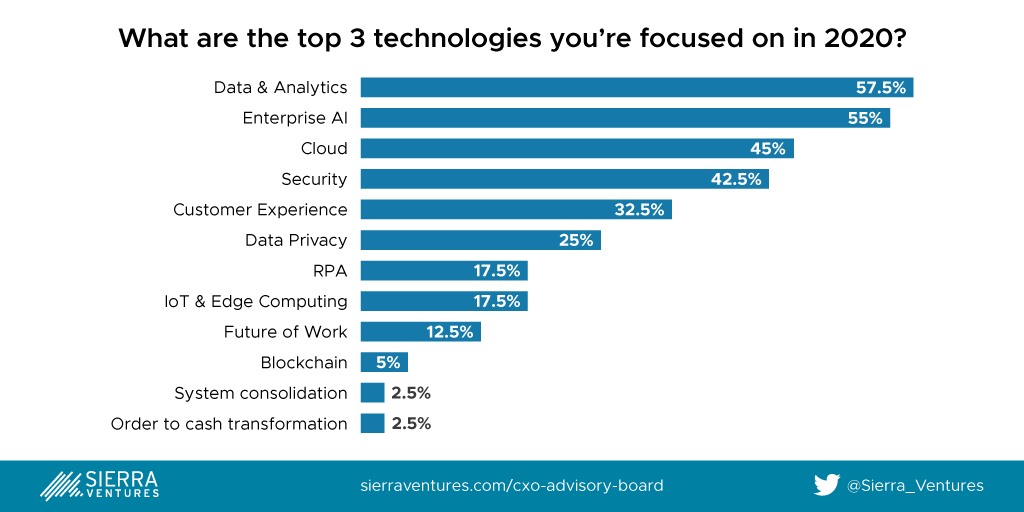 The Sierra Ventures CXO Advisory Board includes F2000 Tech Leaders (majority CIOs/CTOs) across industry clusters such as Healthcare & Pharma, Financial Services, Retail & Consumer, Manufacturing & Energy, and Technology & Internet. We conducted a survey of the CXO Advisory Board and asked them to talk about their views and priorities for 2020. The survey covered 5 topics:
Top Technology Initiatives for 2020
Next-Gen Technology Interests for 2020
Current Challenges with Enterprise AI
Cloud Adoption Progress
Security and Privacy Priorities
Results
Top Technology Initiatives for 2020 The top technologies CXOs reported focusing on in 2020 were Data & Analytics, Enterprise AI, Cloud, and Security.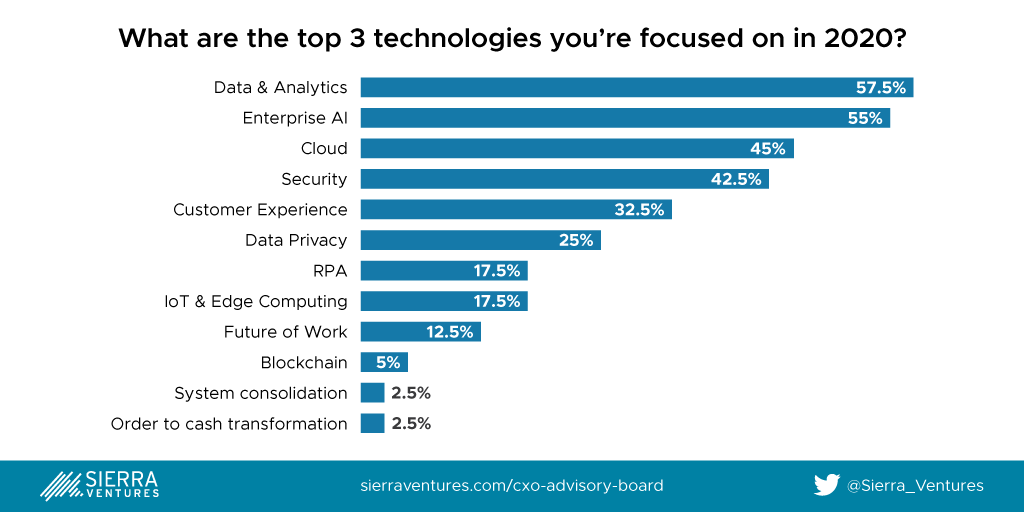 Next-Gen Technology Interests for 2020 Survey respondents reported that the top next-gen technologies that they are interested in learning about in 2020 are Quantum Computing and Digital Twins followed by 5G.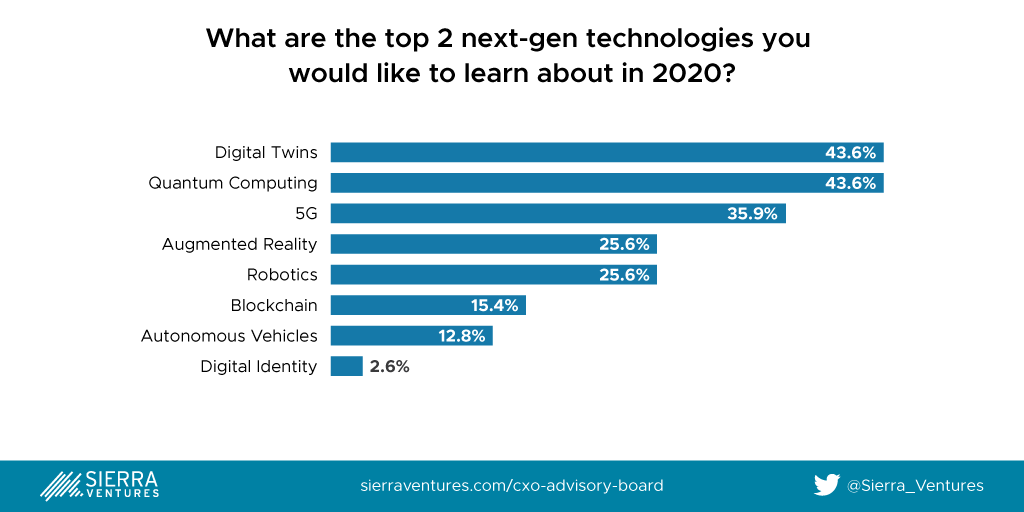 Current Challenges with Enterprise AI It's no surprise that Enterprise AI is on the mind of every organization, but we find that many organizations are having challenges with mass implementation. Answers for the biggest challenges CXOs face when implementing Enterprise AI were a mix of data, use-case, organizational, and tech-related with "Finding and Cleansing the Right Data" being the top challenge reported followed by "Triaging the right AI use cases for the organization."
Cloud Adoption ProgressCloud adoption has also become a key priority for Enterprise. CXOs reported a fairly distributed breakdown when it came to the percentage of workloads expected to be in the cloud by the end of 2020, with the majority (35.9%) reporting more than 50%. When it came to cloud strategy, 72.5% of respondents said they plan to leverage a multi-cloud strategy in 2020 with 61.5% reporting that they have started using Kubernetes.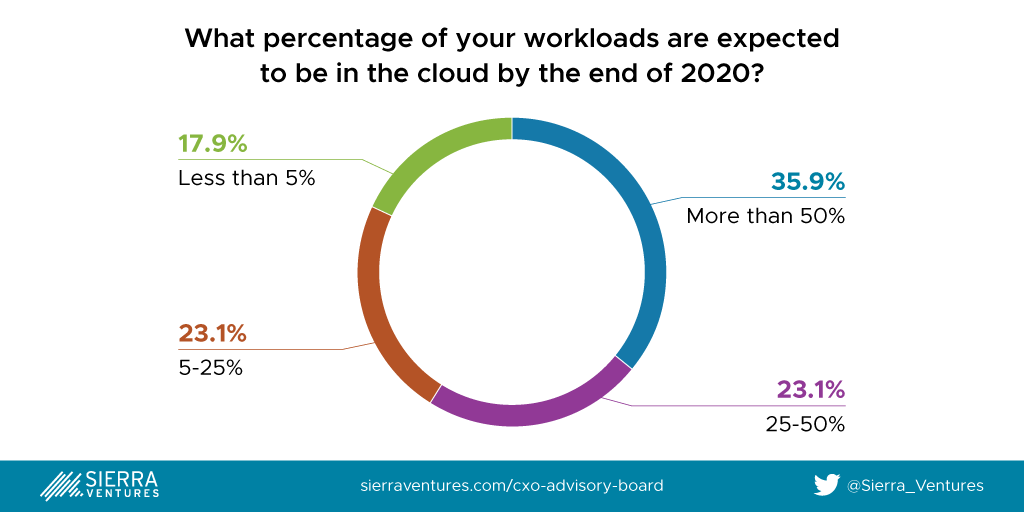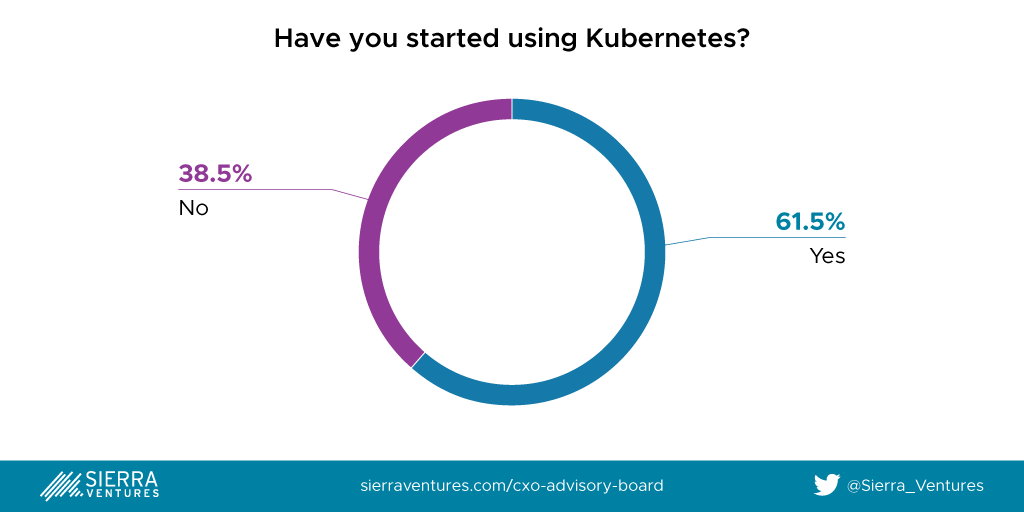 Security & Privacy Priorities Security will always be a priority for organizations and privacy is an interesting sector that has picked up a lot of steam as of late with requirements like GDPR being enforced. CXOs reported that Cloud Security (37.5%) followed by Data Privacy (32.5%) were the two Emerging Security areas they are most focused on for 2020.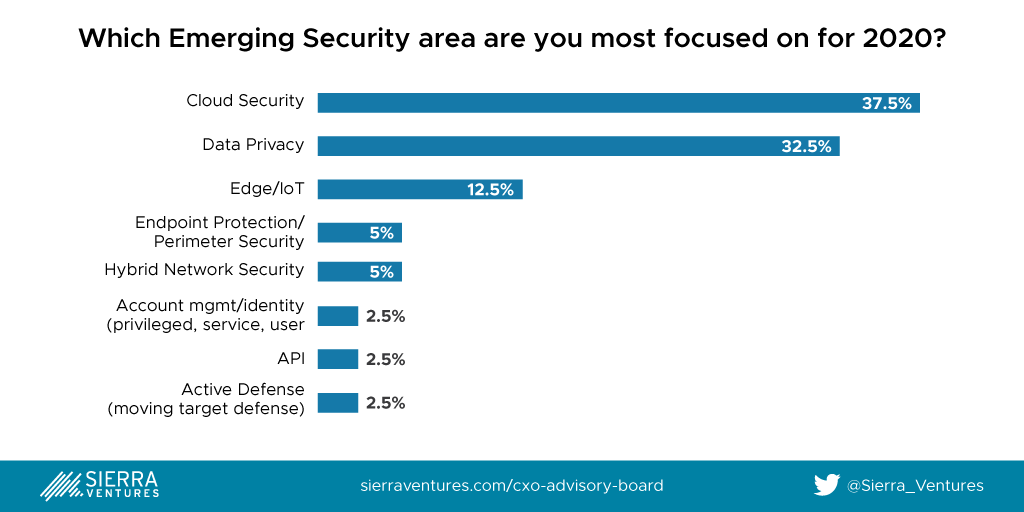 Stay tuned for updates on our blog where we'll be sharing more in-depth analysis on the 2020 CXO Tech Survey Results. Follow us on LinkedIn and Twitter to receive notifications about new posts.
About the Sierra Ventures CXO Advisory BoardThe Sierra Ventures CXO Advisory Board has been in existence for 16 years and remains a key value driver for the firm. Advisory Board members provide insights on key enterprise technology dynamics and act as a source of critical feedback for our portfolio companies. We provide Advisory Board members a first look at the disruptive trends and companies we're seeing in the market that will potentially transform their industry.