Innovation that Reduces SaaS Churn: Meet Appcues, the Leader in User Experience Management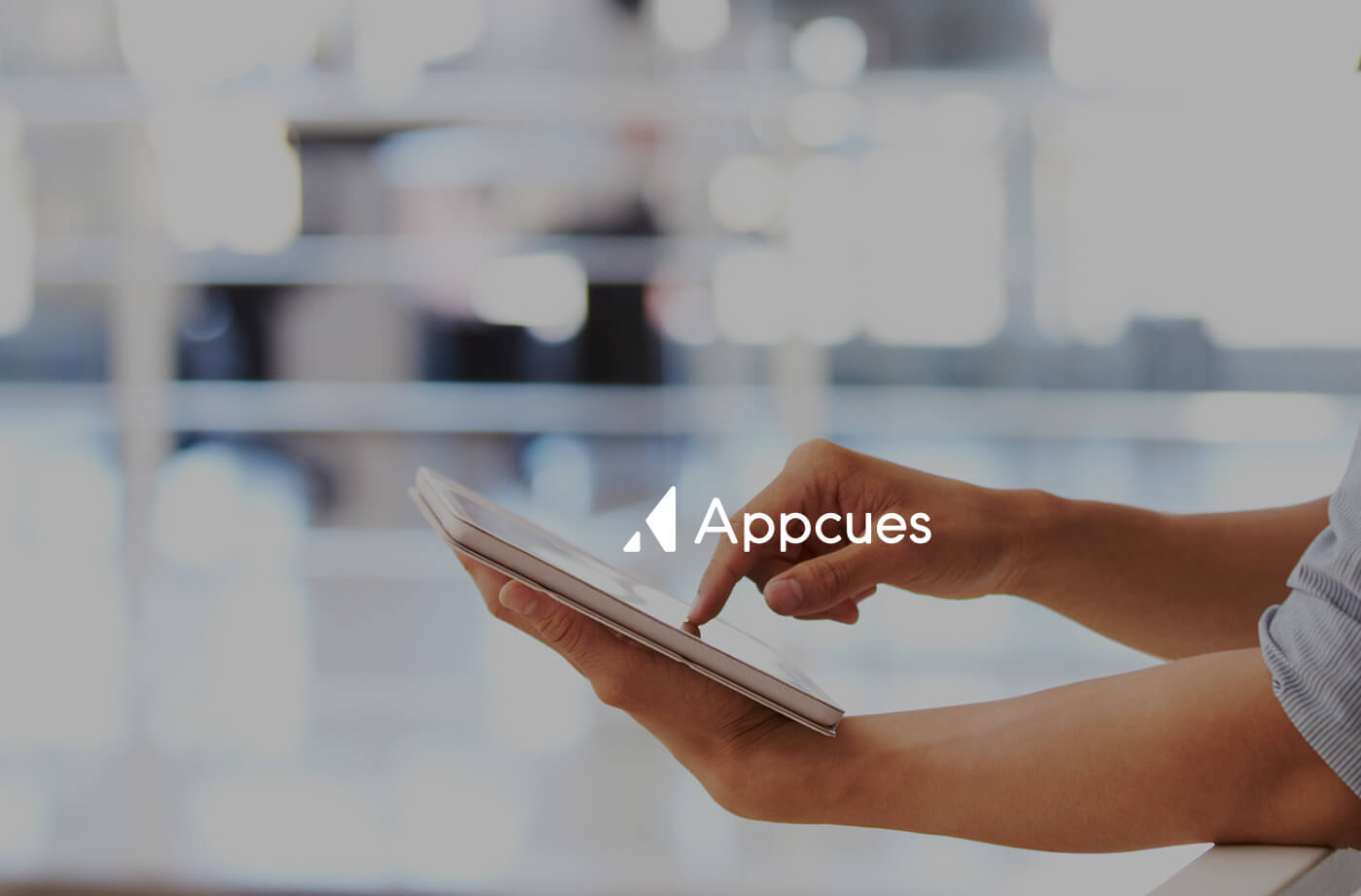 For Series A investments, I'm frequently asked what I look for in a company. In a nutshell, I look for:1) explosive new categories,2) a team that's an 11 on a scale from 1 to 10,3) a group that's focused on building a large, sustainable business.
I found all three of these in Appcues, a Boston-based company led by founders Jonathan Kim and Jackson Noel. Appcues has developed a user experience management (UEM) product that allows marketers to guide customers to seamlessly adopt product features without involving engineering.

I'm very excited to lead their Series A, along with Accomplice Ventures and several notable angels. As committed investors, we value Appcues' mission to resolve pressing global problems for SaaS companies—including customer activation, engagement, and retention—with a forward-thinking approach using lightweight technology.
Superior User Experience Management is Driving SaaS Hypergrowth
Over the last decade, mobile phone penetration and application proliferation has grown at an alarming rate, with no signs of slowing down. SaaS companies are banking on this trend and have adopted a new channel for revenue stream—within applications —as opposed to traditional sales-driven strategies. The dominant business model for websites and applications is now a freemium model, where converting trials generates revenue. Ultimately, applications that offer the most user-friendly experience drive users to convert into paying customers.This SaaS hyper-growth has also given rise to a massive trend in consumer-grade applications for businesses. Loyal app users have ushered in a new era in the workplace—the Bring Your Own Device (BYOD) movement. Enterprises who build and monitor applications that encourage adoption (because they're easy to learn and navigate) provide a competitive advantage, retaining loyal customers with a strong buying preference and these customers become their new sales team. As a result, applications are proliferating within businesses.In the BYOD workplace, it's common for software to be adopted by someone initiating a download and entering their company information within that system. 87% of companies rely on their employees using personal devices to access business applications (Syntonic). Often they start with a limited time free trial. Then, if the application provides sufficient business value, the user will convert into a paying customer. It's critical that the application is designed well so that the user influences those they work with to also adopt the app. If an application is keenly designed and improves user productivity, people will maximize their free trial use and justify the conversion fee.A 2017 research study conducted by Apperian reveals the effectiveness of mobile applications for enterprises and links them to improved productivity and ROI:
80% of those surveyed said they plan to expand their app portfolio over the next 12 months.
85% of individuals believe their organization will be most impacted by a combination of applications that improve productivity company-wide, in addition to applications that enable mobile sales and field service.
43% listed improved productivity as their primary goal of enterprise mobile applications—a 20% jump from 2016.
The Ubiquitous SaaS Problem: Churn
What is SaaS churn? It's the percentage rate at which SaaS customers cancel or abandon subscriptions.The main culprit for web and mobile app churn is often the customer onboarding process—such as the "Time to First Value" taking too long, an incomplete or confusing step-through, or user expectations are not aligned with what can actually be delivered.If a user's first experience with an app is confusing, takes too long, or is cumbersome, the user will inevitably discontinue use of or delete the app.Recent data shows:
With an overwhelming number of applications on the market, it's no wonder that churn rates have been increasing over the last few years, as customers are quick to move on to the next app that offers a better experience.App design is now imperative for SaaS companies to be profitable. If not designed intentionally, they'll fail to onboard or retain users and thus lose revenue. This is where Appcues excels.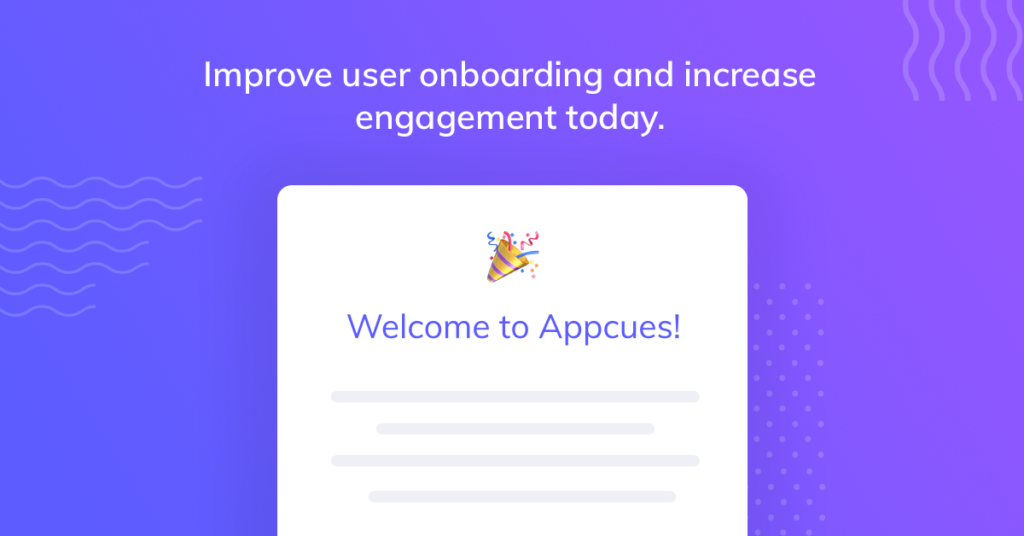 Appcues Boosts Activation, Engagement, and Retention
Appcues provides a user experience management layer that solves SaaS churn for companies. Appcues improves website and applications' go-to-market strategy with easy-to-use tooling that includes:
User-facing NPS surveys
Customer onboarding hints
In-app messaging and checklists that increase customer activation rates
Data insight for product managers
Alerts and reports on user behavior activity
Proven successful, Appcues has over 1,000 customers and tracks 20 million engaged users on a monthly basis.
Case Study: Yotpo Uses Appcues to Drive Product Adoption
One of Israel's fastest-growing tech companies, Yotpo, helps businesses use customer feedback and reviews to build trust and drive growth. Recently, they were experiencing problems with their UX and onboarding process and implemented Appcues to quickly fix these problems with an effective in-app guidance tool.By testing new onboarding flows, and picking the best flow, Yotpo achieved:
Greater engagement: The number of unique new users generating reviews grew by over 42%
Increased feature adoption: After launching a flow to show users how to install their reviews tab, they saw installation numbers for that feature grow by around 300%
Improved retention: 1-week new user retention grew by 50% and 2-week retention grew by over 60%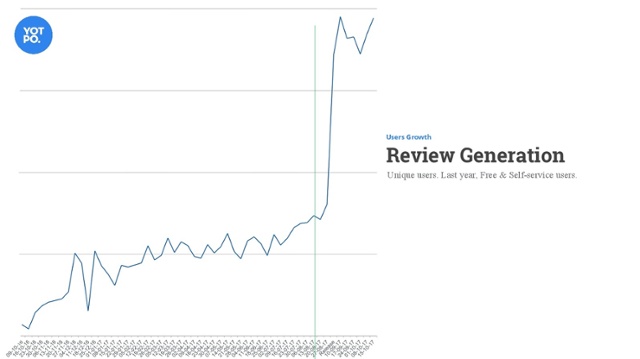 With Appcues, the Yotpo growth team saw that about 70% of users completed the onboarding flow when they created this new sequence. Without Appcues, Omer Linhard said, "Activation would have decreased dramatically, which would have impacted revenue and lead generation."
Exceptional Leadership Builds Exceptional Growth
Beyond the UEM category, what really excites me about Appcues is the founding team of Jonathan and Jackson who are triple-threat entrepreneurs. They have experience from Hubspot on how to grow real businesses using an inbound model; they have deep domain experience; and they have the fortitude and vision to build a large company. I am thrilled to be their partner in this journey.