How Enterprise CXOs Can Attract Top Tech Talent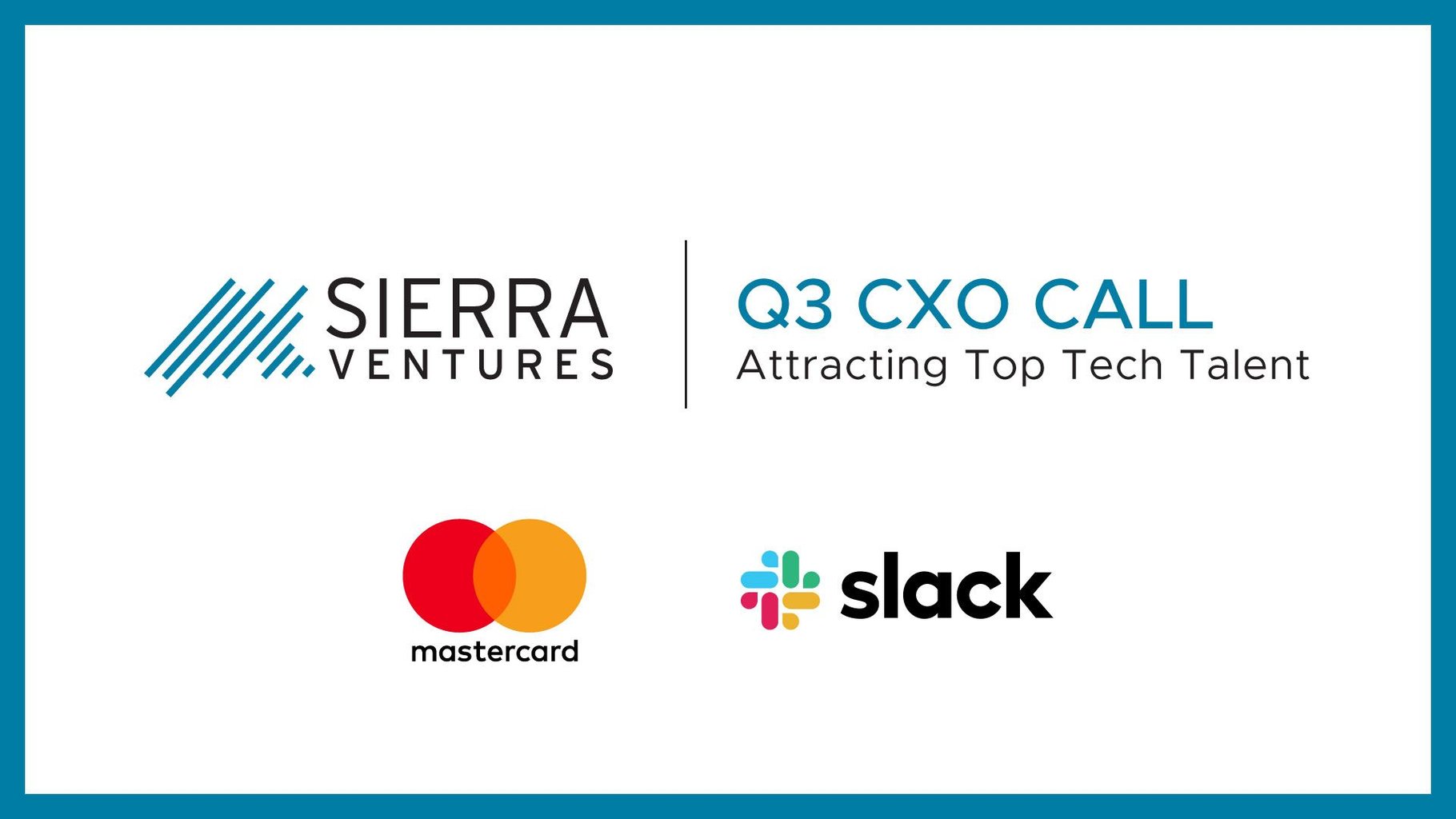 The market for tech talent is hyper-competitive as traditional enterprises are moving through rapid transformations and well-capitalized startups are scaling quickly. Our last quarterly CXO Advisory Board call focused on how Enterprise CXOs can Attract Top Tech Talent in today's market. The event was moderated by Sierra Ventures Managing Partner Tim Guleri and speakers included Manu Thapar, CTO of Mastercard and Gia Sharda, Director of Technical Recruiting at Slack.

Industry-leading public tech companies and fast-growing startups have traditionally had an advantage in attracting top-notch talent as they are at the forefront of innovation and can offer attractive employee benefits and career upside. However, the pandemic has democratized the talent landscape with more options for employees to work remotely, giving them a choice to move or explore opportunities beyond their backyard.
Enterprises CXOs are now wrestling with how to attract the best and brightest to join their organization. A survey of 10,000 knowledge workers conducted by Future Forum Pulse (launched by Slack) found that 56% are open to a job change and 93% want flexibility around when and how they work.
Our speakers covered 5 Key Takeaways for how companies can win the battle for talent in the upcoming post-pandemic world:
It Takes a Village to Hire
Be Consistent and Hone Your Process
Leave No Stone Unturned
Factor in New Employee Demands
Build an Attractive Culture
It Takes a Village to Hire
Tech Leadership and HR should be in lockstep on the recruiting process and work together strategically. Collaboration is key and Senior Leadership must lean on their recruiting partners, treating them as experts. Our speakers suggested giving them a "seat at the table" to help with critical items like workforce planning, hiring velocity, and location diversification.
If hiring is important, it must be seen as a key priority and be treated as such. Senior Leadership must take the time to help recruit and put OKRs or scorecards in place to measure the recruiting efforts. An example of prioritizing recruiting at the Leadership level is a public Tech CEO calling a highly sought-after candidate over a weekend in order to lock in the candidate's acceptance. If Senior Leadership takes hiring seriously, it will ultimately trickle down to the rest of the organization.
Additionally, both horizontal and vertical approaches are important when executing on hiring goals. It can be helpful to have dedicated teams to hire for certain tech roles (DevOps, Networking) however when hiring for generalists, multiple teams need to collaborate.
Be Consistent and Hone Your Process
Make sure everyone across the organization knows the company's recruiting pitch. Consistency is key. If this aspect is lacking in the recruiting process, candidates may sense dysfunction and lack confidence to come work with your company. Make sure that the recruiting pitch has a marketing-like hook that candidates will remember and that makes your company stand out.
When it comes to the recruiting process, the company should consider key details like:
Creating high touch experiences with hiring managers
Putting in place feedback mechanisms such as NPS scores
Quickly addressing concerns that candidates may have
Every process detail is vital to landing top candidate targets.
Leave No Stone Unturned
No single source will find all candidates for the company. Both CXOs and HR leaders have to be well-rounded in where they search for talent. Speakers recommended sourcing talent from:
Universities (via Internships & Partnerships)
Referrals (both Internal & External)
Mergers & Acquisitions
Standard Sources (Recruiters, Job Boards)
Another important factor is to not let biases come into play. Spend time recruiting from non-traditional Universities and talent pools that have been overlooked in the past. Sometimes Senior Tech Leaders put too much emphasis on pedigree and not enough on skill and culture fit.
Factor in New Employee Demands
With the pandemic, remote work has become a necessity, and employees now have new demands when it comes to flexibility of work environment and location. Meeting these demands in some shape or form has to be factored into a company's hiring strategy. Companies will have to figure out how to manage their "Digital Headquarters" and decide whether they go full remote or offer a hybrid model.
According to Gia, 1.9% of Slack's employees were remote pre-pandemic. That number is now up to 39%. Gia also mentioned that 24% of employees that have been able to work from home in some capacity have reported that their overall happiness has gone up.
It is recommended that Tech and HR leaders keep a pulse on what other organizations are doing in regards to the Future of Work but also keep in mind what their employees are asking for. You must ultimately create a work atmosphere that both aligns with your company's needs and your employees' preferences.
Build an Attractive Culture
Today's talent pool wants to feel connected to their place of work and feel that their job has meaning, which is why creating a great culture is so important. Organizations that create a great culture do not do so by accident and it is never an afterthought. It is at the forefront of the company's mission and Leadership is highly involved.
Speakers suggested highlighting the following cultural aspects of the company to attract candidates:
Impact to Customers
Volunteer and Philanthropy Initiatives
Training Programs
Support of Planetary Causes
Thank you to our speakers for their insights! We're looking forward to seeing how the battle for top tech talent plays out over the next few years. If you'd like to discuss any of these trends or new ones you're seeing please get in touch at brendon@sierraventures.com.
Check out more CXO Insights.
Resources