The Annual Sierra Ventures CXO Advisory Board Tech Survey gives us insight into the Enterprises' views and priorities for 2022. TheSierra Ventures CXO Advisory Board includes F2000 Technology Leaders (CIOs/CTOs) across industries including Financial Services, Healthcare & Pharma, Manufacturing & Energy, Retail & Consumer, and Technology & Internet. Responses were solicited from more than 75 CXO Advisory Board members.
The survey covered 5 themes:
2022 Tech Priorities
Remote Work Strategy
Cloud & Open Source Adoption
Cybersecurity
ESG Prioritization
Top Survey Takeaways:
Cybersecurity is Still Top of Mind
Mass Kubernetes Adoption Has Arrived
Hybrid Work is the New Normal
Tech CXOs Are Now Driving Aspects of ESG
Revolving Door of Emerging Tech Priorities
Cybersecurity is Still Top of Mind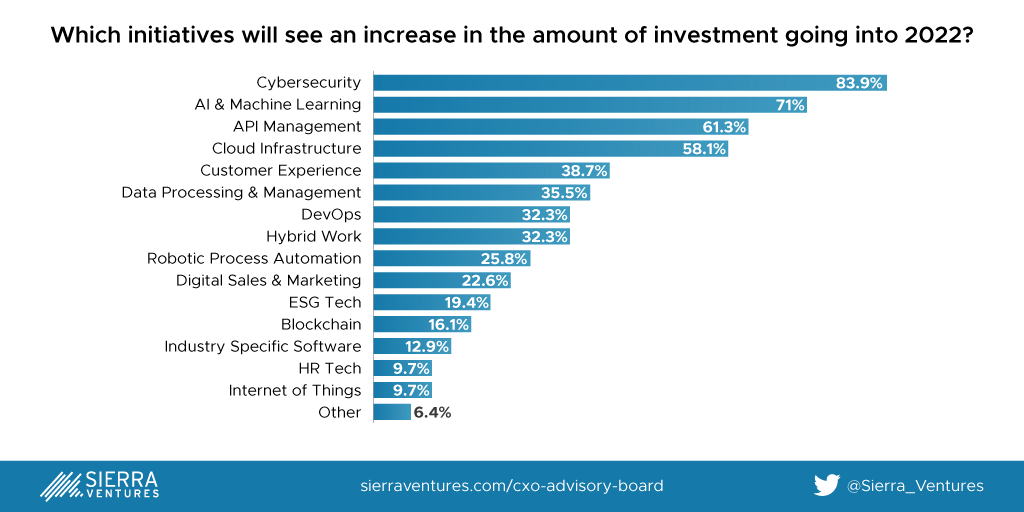 Cybersecurity is the top focus for CXOs going into 2022. Factors that contribute to this include:
Evolving Software Supply Chains have inspired attackers to become more sophisticated in how they target enterprises. Hackers are focusing on connected environments by compromising third party technology providers and gaining access to many data sources in one incursion.
Hybrid Work Complexities have increased security concerns and vulnerabilities as employees work outside the boundaries of a physical office. CXOs are figuring out how to best protect the new vectors and make sure their employees are properly trained around how to prevent remote targeted attacks.
Enterprises are becoming Software Companiesas they develop more digital capabilities. This puts pressure on development teams to speed up product release cycles, adding strain and increased risk on security processes.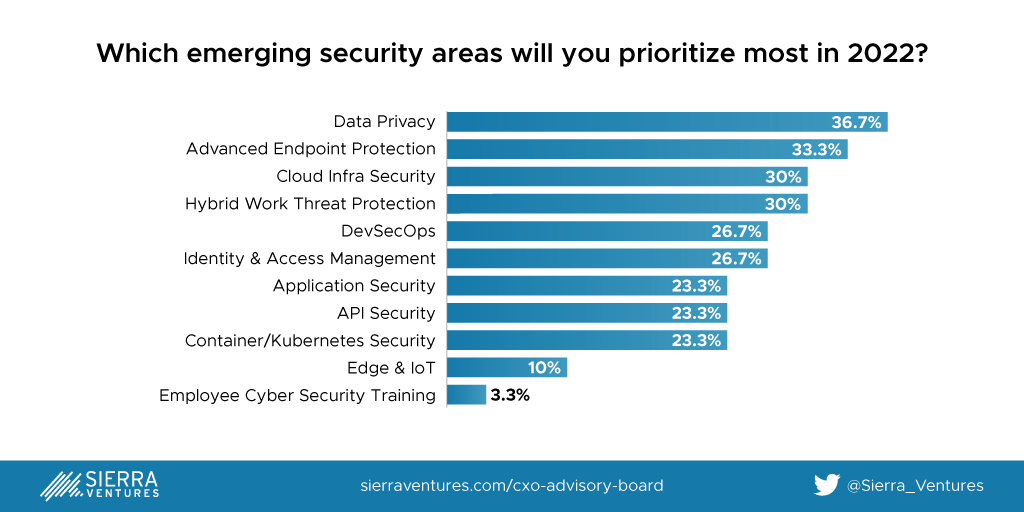 While Cybersecurity is top of mind for most Tech CXOs, there does not appear to be a dominant security sub-sector at the moment. Most CXO's seem to be triaging what is most important to their business while considering company size, industry vertical, and willingness to adopt early-stage technologies.
We see this trend in the security startup market as well. There are a plethora of security solutions being built. As investors, we have to be diligent to find and back the "winners" in the large startup market. It appears that CXOs are going through a similar situation on the buying side.
Read more about CXO Cybersecurity priorities in our 2021 CXO Summit Recap.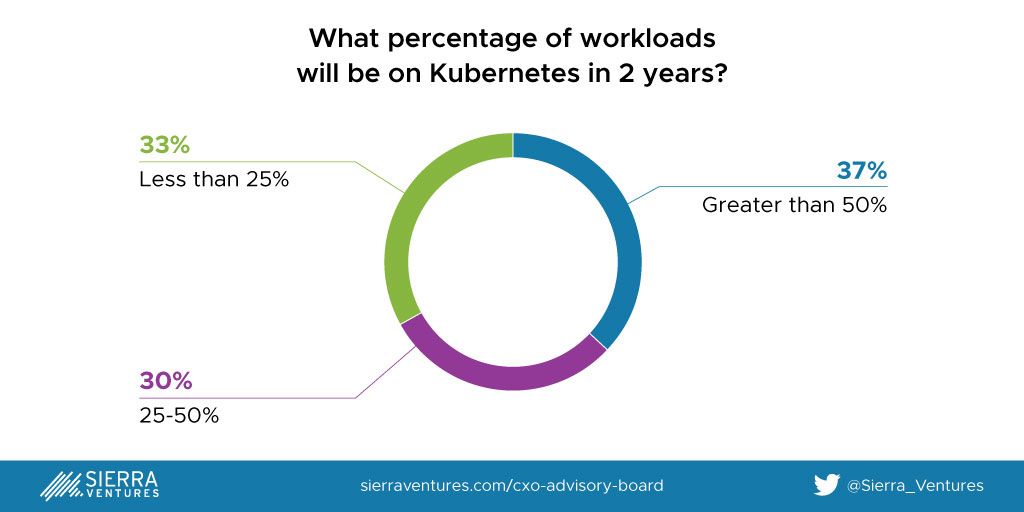 As enterprises continue their rapid shift to the cloud, CXOs and their teams are increasingly focused on containerizing applications that run within the business. Kubernetes is now the de facto platform to facilitate this process for both traditional F2000 enterprises and next-gen companies born in the cloud.
In 2020, style="color: #007da5;">Gartner predicted that by 2022, more than 75% of global organizations will be running containerized applications in products, up from 30% at that time in June 2020. We see this playing out with at least 70% of CXOs reporting a meaningful portion of their cloud application workloads running in Kubernetes over the next two years.
Kubernetes was the dominant open source technology being used, eclipsing other mainstream platforms like Hadoop, Spark, and Kafka.
We have seen an extensive startup industry built around the Kubernetes ecosystem, spanning aspects like:
Hybrid Work is the New Normal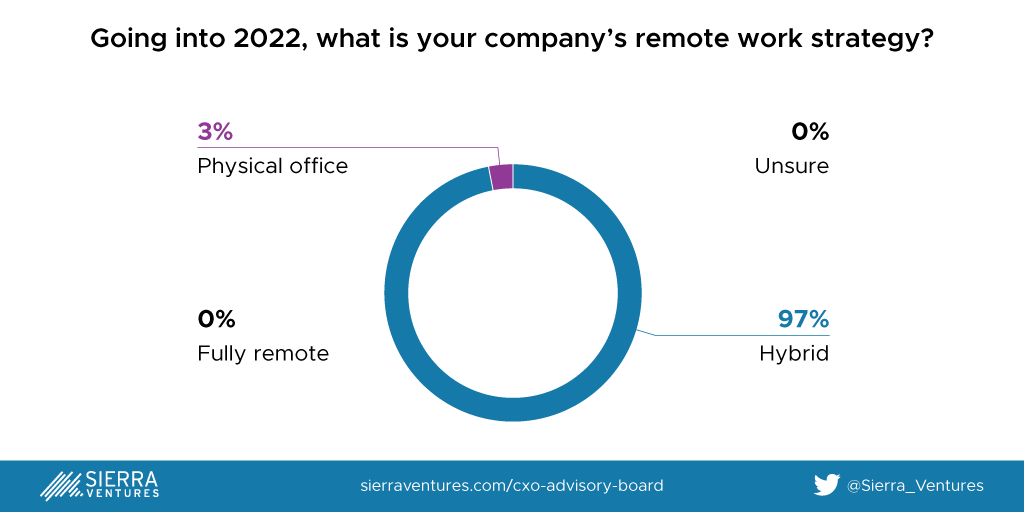 The pandemic pushed remote work strategies to the forefront in 2020 and 2021. Going into 2022, remote work is still a key priority with 97% of CXO respondents reporting that a hybrid work model will be their company's strategy this year. However, many CXOs have now implemented the technology and organizational infrastructure required to facilitate new work environments and we saw remote work drop from a #1 priority in 2021 to #7 in 2022.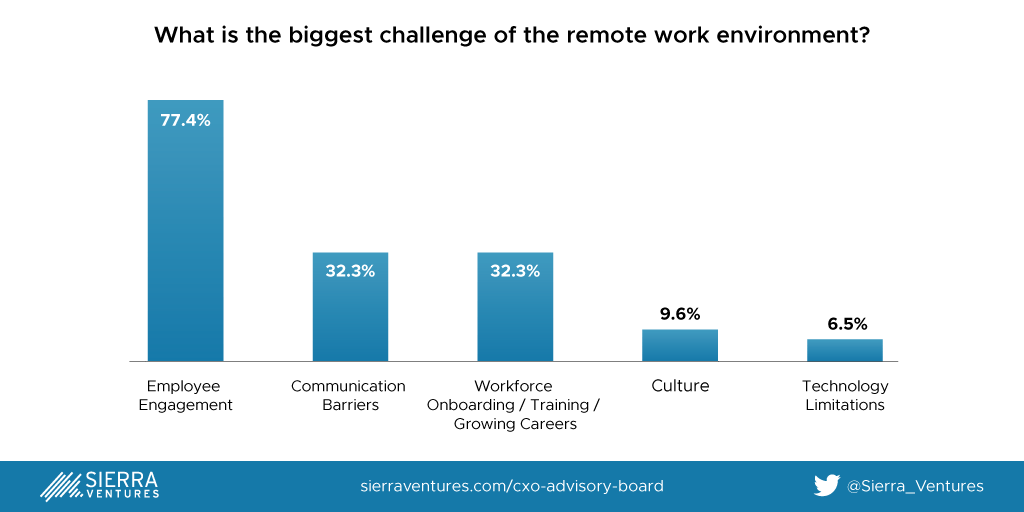 The main challenge enterprises are facing in the remote work environment is Employee Engagement. Over 75% reported that Employee Engagement was their biggest challenge followed by Communication Barriers (32%) and Workforce Onboarding / Training (29%). Some respondents added that building and maintaining company culture has been a challenge as well.
Some recurring best practices for remote work that CXOs shared include:
Use the Office as a Tool. Enterprises are revisiting the purpose of the office. Many are now using the office as a tool to keep culture and connections active and as a collaboration space that is available for use when needed and appropriate. Technology is being installed at the office to ensure those working remotely are able to participate in any in-office meetings.
Encourage Flexibility. Many teams are taking the approach of hiring employees in locations where they are most comfortable and can operate most effectively.
Invest in Communication. Many noted the importance of over-communicating when the team is hybrid or all remote. Investing in collaboration and communication technology to improve employee connectivity and encourage frequent and diverse interactions is important.
Prioritize Security & Safety. Many reported the importance of putting in place secure practices and tools to protect devices, operations, and people. This includes having strong executive sponsorship, well defined policies, and investing in appropriate tech to support it – including vaccination verification for in-office work environments.
Tech CXOs Are Now Driving Aspects of ESG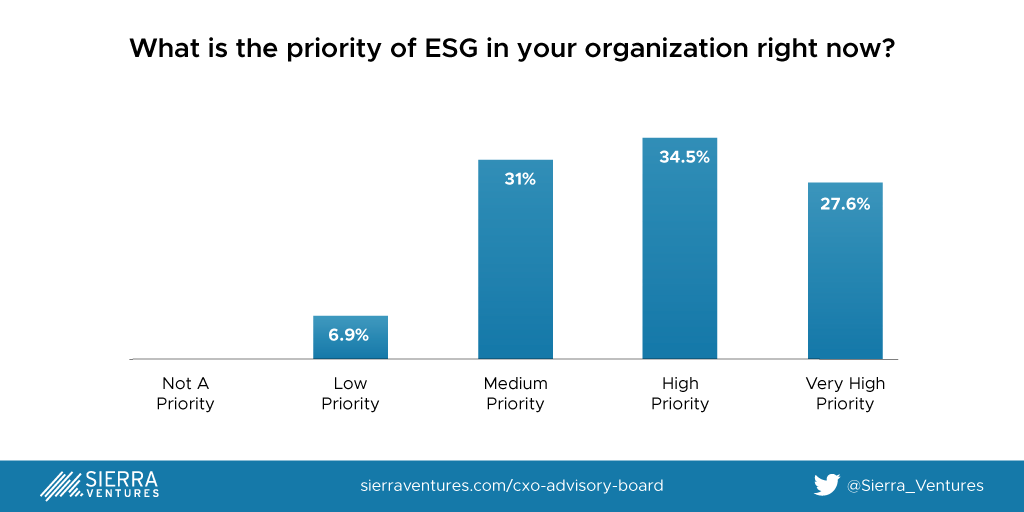 As shown above, over 60% viewed – ESG as a "High" or "Very High" Priority. Our Q4 2021 CXO Call on Impacting ESG Initiatives discussed driving forces behind ESG Tech including:
Double Materiality – exists when a companies' positive bottom-line revenue and positive impact on ESG efforts are aligned.
Decarbonization – there is demand for technologies to better track and measure carbon emissions, and in Deep Tech, to actually capture these emissions.
Capital Inflows – more institutional investors are adding ESG Tech to their portfolios and there has been a significant proliferation of startups within the sector.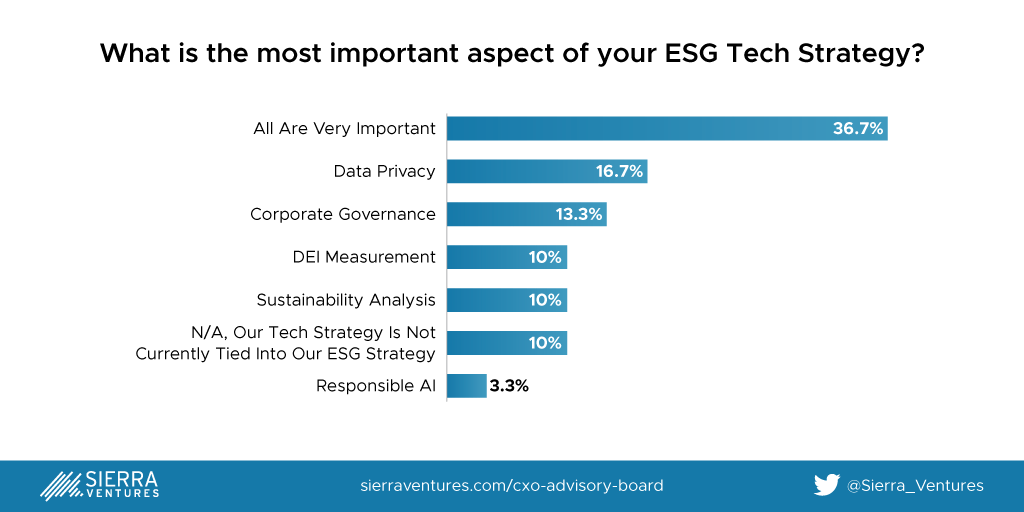 ESG Tech will contribute to the execution of organization-wide ESG goals and startups are capitalizing on relevant sectors like Sustainability Analysis, Data Privacy, Responsible AI, and DEI Measurement. 50% of respondents reported that they are already actively investing in ESG software solutions related to environment and sustainability.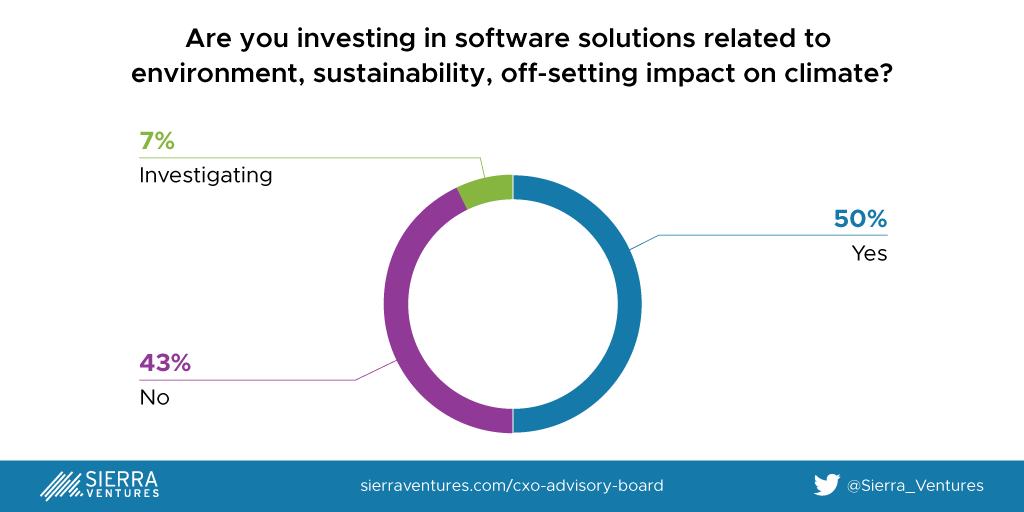 Revolving Door of Emerging Tech Priorities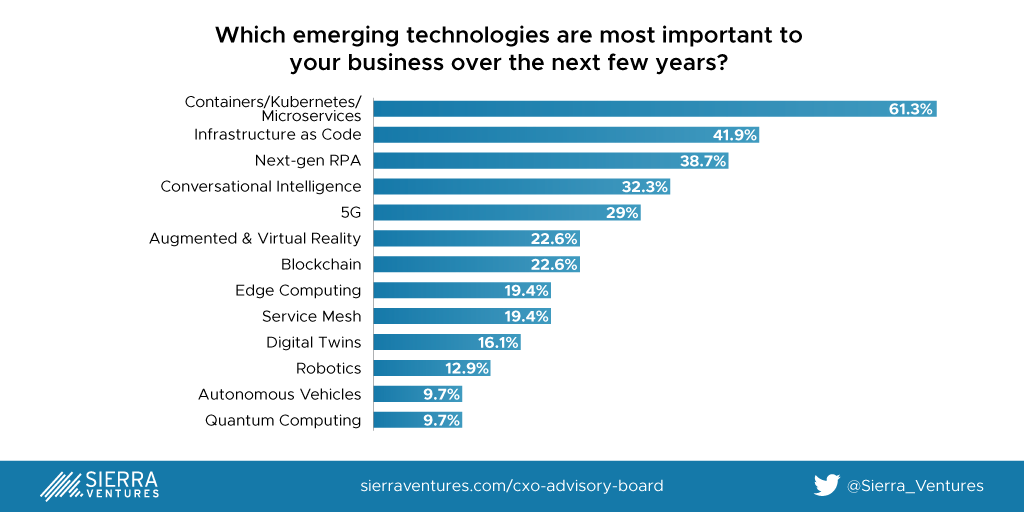 There has been volatility in Emerging Tech focuses over the past three years with technologies gaining traction in one year while being deprioritized in subsequent years and vice versa.
Highlights of changing Emerging Technology priorities include:
Quantum Computing and Digital Twins were tied as the #1 in areas of interest in our 2020 Survey whereas in 2022 they were ranked near the bottom. We are still bullish on Quantum Computing long-term but understand that we are still in the very early stages of Enterprise adoption. This is true for Digital Twins as well, which will likely serve a large role in new sectors like Industry 4.0.
Augmented & Virtual Reality saw an increase in priority, likely a result of Facebook's transition into Meta in Oct 2021. Both are core technologies driving the metaverse and Web3 conversation.
We also see emerging technologies becoming mainstream. #1 ranked Containers/Kubernetes/Microservices will likely not be listed in the Emerging Technology category for 2023 as it has become mainstream. We expect that Infrastructure emerging tech such as Code, Next-Gen RPA, and Conversational Intelligence will move into the mainstream over the next couple of years as wel
We're looking forward to ongoing collaboration with our CXO Advisory Board members to remain current on Enterprise trends and share the latest new technologies to help them innovate and stay ahead of the curve!
For any questions about the CXO Tech Survey or the Sierra Ventures Advisory Board please contact Brendon Schmidt, at brendon@sierraventures.com.
Find more CXO Insights on our Blog.