2020 CXO Summit - A Recap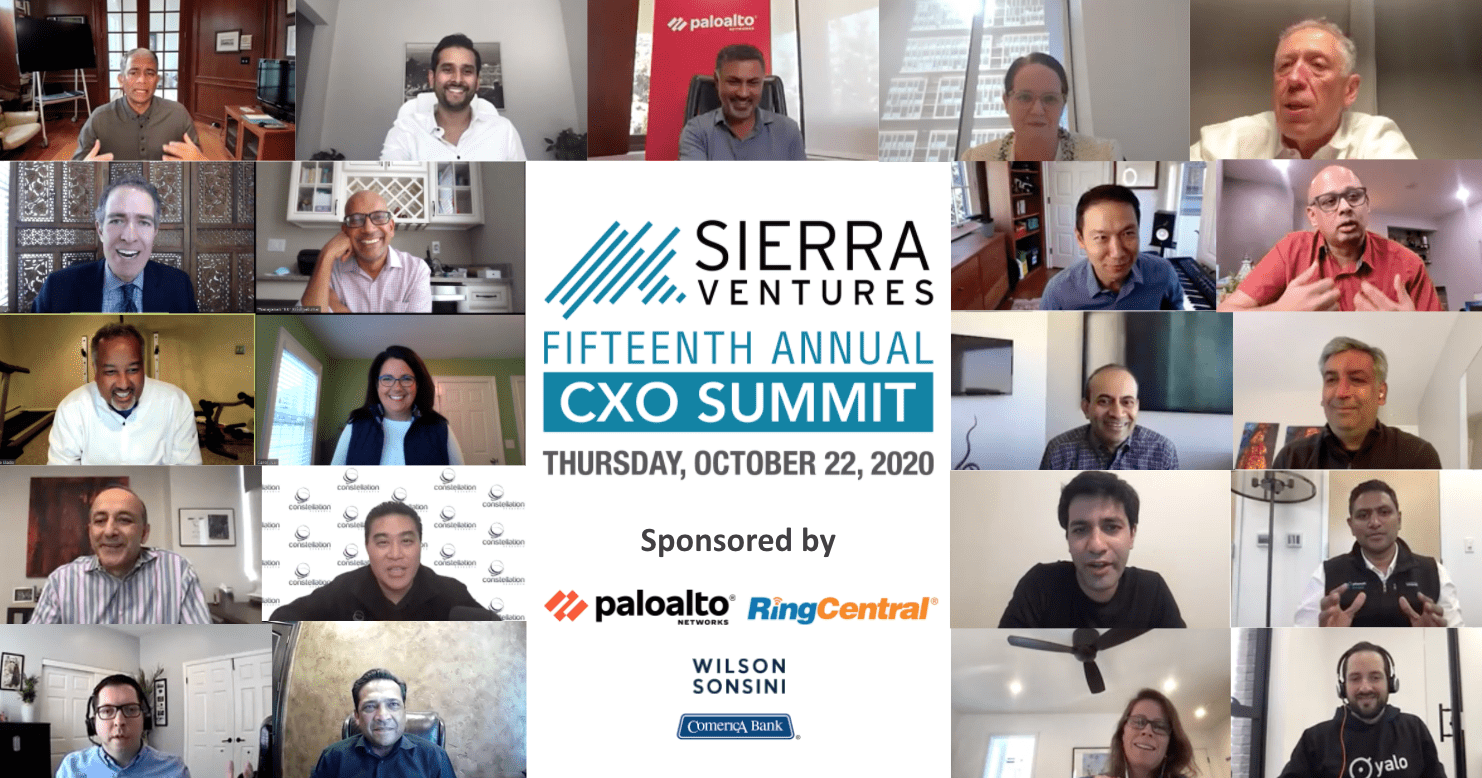 Our 15th Annual CXO Summit in October provided excellent insights and trends from leading industry executives. We had over 60 CXOs from F500 companies (including Bank of America, Delta Air Lines, Merck, Nissan, Prudential, TIAA), CEOs of Palo Alto Networks and RingCentral, the COO of Twilio as well as some hyper-growth companies like HashiCorp and Looker. A number of our portfolio companies were also featured at the Summit.Key takeaways from the Summit are below.The Hyper-Acceleration of Digital Transformation
"I believe this is the most rapid disruption I have seen in my 25 year career at Microsoft." - Rajesh Jha, EVP Microsoft
Rajesh Jha, EVP of Experiences and Devices at Microsoft believes that we are in the most rapid pace of digital transformation he has seen in his 25-year career at the company. Managing a significant portion of Microsoft's product portfolio including Office 365, Teams, Skype, and Security, he is witnessing a significant amount of customer demand previously planned in the long-term technology roadmap, now moving to immediate production. George Hu, COO of Twilio, validated this trend with data from Twilio Research's recent survey citing that during the pandemic alone, 54% of companies added new digital channels to their customer engagement strategy and 79% of them had increased their digital transformation budgets. Some companies had even accelerated their digital communications strategy by up to 6 years. Sally Gilligan, CIO & Head of Strategy of Gap Inc. highlighted that digital acceleration has not just been brought on by the pandemic, but is a long developing trend that has accelerated even faster this year, particularly when it comes to customer experience.The Future of Work will prioritize Flexibility
"Gone are the days of requiring employees to be in-seat, in-office 5 days a week. We are going to see a lot of hybrid models out there with a lot of flexibility." - Kelli Dragovich, former CHRO of Looker
Many discussions centered around what the Future of Work looks like post-pandemic. Speakers agreed on three things enterprises should bake into their Remote Work strategies:
Flexible work and hybrid models will be the new normal, not fully remote or fully in-office. Kelli Dragovich, former CHRO at Looker advised companies to avoid either extreme, while also considering employees' well-being during this transitionary period.
Transitioning to a hybrid environment will not be easy. Anand Eswaran, President & COO of RingCentral believes it will create more long-term challenges for enterprises as they look to configure business communications and people management strategies that align with hybrid work.
Both Rajesh and Anand agreed that video communications have received much of the attention in 2020. However, they encouraged enterprises to establish persistence across all mediums of digital communication, including audio and messaging.
AI & Automation Shifting from Concept to Reality
"AI & automation acceleration will be part of the answer in maintaining productivity and continuing to drive innovation and growth during a time of necessary belt-tightening, as well as preparing for the tailwinds to come." - Peter High, President, Metis Strategy
AI & Automation initiatives have become a near-term necessity for enterprises. Peter High, President of Metis Strategy feels that this initiative will be a large part of the answer as IT leaders address the current environment and create tailwinds for growth and productivity long-term. Ray Wang, Chairman of Constellation Research, shared that 62% of F2000 companies in 2000 no longer exist, primarily due to their inability to embrace data transformation. He believes enterprises should focus on augmenting data velocity capabilities to enable AI & Automation that will unlock new business models and sharpen decision precision across the business. However, it will not be easy as he predicts 70% of mission-critical data used in 2024 will be located outside of the enterprise. Three industry-leading CXOs shared their strategies including:
Carol Juel, CIO of Synchrony - establishing an organizational AI Center of Excellence and a company-wide focus on specific AI-driven technologies like Machine Learning, Robotic Process Automation, and Intelligent Customer Experience.
George Llado, CIO of Alexion Pharmaceuticals - adopting a Venture Capital-like mindset when evaluating AI solutions. Work internally with both business and IT members from the start to expose yourself to as many relevant companies in the space and then partner with select providers to experiment and pilot use cases. (Check out some of the AI companies in our portfolio here).
Narayanan "KK" Krishnakumar, CTO of Delta Airlines - in an industry driven by customer experience, leveraging AI to optimize operational excellence and improve customer capabilities. They take a "walk in your customer's shoes" approach to exploring all facets of the travel experience.
The Cybersecurity Landscape is Evolving
"We are seeing remote secure work increase. And in that context, we see the rate of transformation to the cloud accelerating." - Nikesh Arora, Chairman & CEO, Palo Alto Networks
Cybersecurity is at a premium as security leaders navigate to protect their enterprises in a distributed environment. Short-term stopgaps were put in place during the first few months of the pandemic and now further implementations are needed for the long-term. Nikesh Arora, CEO of Palo Alto Networks, shared that $1T of investment has gone into the cybersecurity industry over the past 10 years and now most IT organizations have more security vendors than IT vendors overall. Direct customer feedback is showing that companies are spending a significant amount of time restructuring their security strategy. He also agreed that remote work and digital transformation are not going away anytime soon, which is why the company has been so aggressive in acquiring cloud security startups over the past few years. Security leaders from HashiCorp, Shutterfly, and Zimperium agreed on three additional industry trends:
AI capabilities within new solutions have a huge potential to automate laborious security processes while reducing the signal to noise ratio for Security Operation Centers.
DevOps and Security teams must continue to partner in order to keep up with faster development cycles, while not creating additional risk for the company.
Crises like the pandemic create uncertainty and with uncertainty comes targeted attacks. Put a higher priority on internal employee training and tools to prevent these incidents.
We're looking forward to seeing how the enterprise technology landscape plays out over the next few years as we continue to meet with our CXOs and industry leaders to stay on top of the trends. If you'd like to discuss any of these trends or new ones you're seeing please get in touch with me, Brendon Schmidt, at brendon@sierraventures.com.