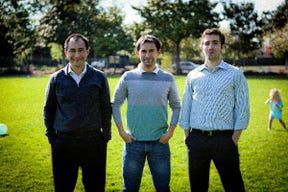 Ooyala
Bismarck Lepe - CEO
Sean Knapp - CPO
Belsasar Lepe - CTO
Ooyala was the leader in online video management, publishing, analytics, and monetization. Its platform gave content owners the power to expand audiences and the deep insights that drive increased viewer engagement and revenue from video.
Acquired by Telstra in 2014.
Investing in enterprise of tomorrow, today.
"I've had the opportunity to work with Mark Fernandes and Sierra Ventures twice - first with Ooyala when he invested in us in 2008 and then again with Wizeline when he invested in 2014. With Ooyala, I was a first time founder-CEO, and everything was going great, until the financial crisis of 2008-2009 hit. But Mark remained a calm and strategic sounding board for me and the company. He helped us raise the next round and eventually was key in our selling the company to Telstra."