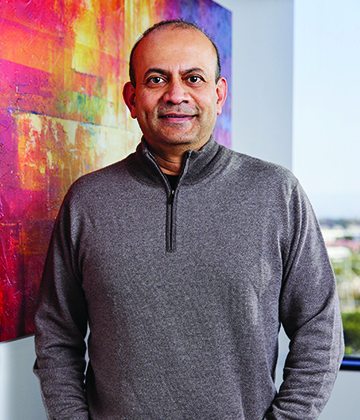 Mark Fernandes
MANAGING PARTNER
Mark Fernandes began his career as part of the founding team of a display company, followed by product roles at Seagate and Cisco. After his MBA, he was a Wall Street research analyst covering the software sector at Robertson Stephens and Merrill Lynch. He joined Sierra Ventures in 2002 and focuses primarily on software.
Some of his prior investments include Sourcefire (IPO; M&A – Cisco $2.7B) and portfolio companies sold to leading tech companies like Microsoft, Cisco, VMWare, Palo Alto Networks, Telstra, and more.
Mark holds a BS from Mangalore University (India), an MS from UC Berkeley, and an MBA from Harvard University.
Insights from Mark
What are the top three things you think about when looking at a potential investment?
At our stage of investing (Seeds and Series A), it's obvious that the bet is on the founder(s).
I'm looking at their ability to attract a rockstar team, investors, and customers.
I'm evaluating their thoughtfulness about the market size, their GTM, unit economics, etc.
I'm curious about their unique insights into the space, the competition, and their approach to it.
What advice do you have for founders?
Focus on inputs, not outputs – Too often we spend valuable time at board meetings or management reviews focused on the results instead of the decisions that were made weeks, months, or years ago which influenced them.
If you had to recommend one book to an entrepreneur what would it be?
Start with Why by Simon Sinek. Starting out my career as an engineer, I was so focused on the "How" and just did what my managers told me to do. As a product manager, I graduated to the "What" and focused on building the right mousetrap without much context. It was only after business school when I spent time as a Wall Street Research analyst that the importance of "Why" dawned on me. Why do some companies succeed? Why do the best founders hire like they do? Why do certain business models work best? For entrepreneurs, it's critical to do your customer discovery, research the competitive landscape, and have a child-like curiosity about the reasons for tackling your market / problem.
What is your best "life-hack"?
Pack healthy snacks / lunch to work or on business trips. They might add a few years to your life.