Building Your First Customer Success Team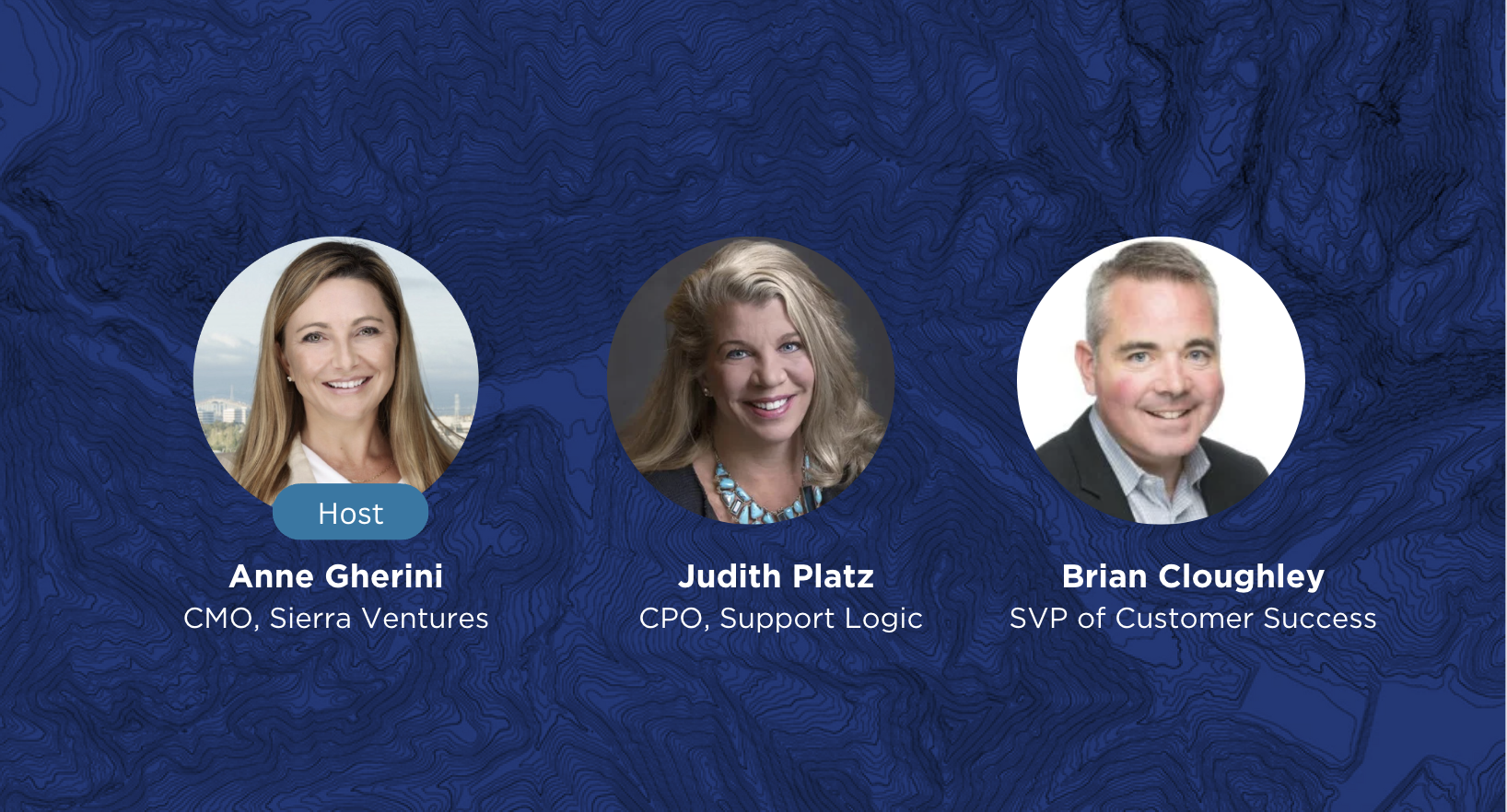 In today's competitive environment, customer success is crucial to establishing a solid foundation and building long-term growth at any SaaS company. This session will provide essential strategies, best practices, and practical tips to construct an effective customer success team that drives customer satisfaction and retention.
Sierra Ventures' Anne Gherini talked to two incredible customer success leaders, Judith Platz, and Brian Cloughley, about how to build a successful customer success team at your startup.
Judith Platz is the Chief Customer Officer at SupportLogic. Previously, she was SVP of Customer Support at Salesforce and led CS teams at TSIA, Approva, Infor, and Oracle.
Brian Cloughley is a go-to-market strategy advisor and was previously the SVP of Customer Success and Revenue Expansion at Affinity and led CS and Business Operations teams at Comfy and Autodesk.
Top Tips:
1. Understand and quantify customer value before building a CS team. Specifically, spend time with customers to understand what value they get from the product. Quantify this value down to a specific metric, like hours saved per week before making CS hires.
2. Define clear metrics and KPIs for the CS team to track customer health such as adoption rates, revenue retention, revenue expansion, and customer effort. Also, track sentiment data as an alternative to CSAT.
3. Ensure the CS team works closely with other revenue teams like sales and marketing. Specifically, collaborate on sharing customer success stories and feedback from sales processes, as discussed. Also, integrate CS into revenue meetings from the start.
4. Gather customer feedback early and regularly to influence product roadmap. In particular, analyze support and usage data to identify trends and share these insights with the product, as SupportLogic can do.
5. Hire for empathy, adaptability, and collaboration over rigid processes. Look for people comfortable with flexibility and experimentation in a startup.
6. Build a team with roles beyond CSMs like data analysts, ops, and IT support. Specifically, hire people focused on customer experience mapping, health scoring, and tool administration.
7. Track leading indicators of customer success like adoption and usage metrics. For example, monitor metrics that show high-performing customer behavior.
8. Experiment regularly and track the results to inform future strategies. Take responsibility for specific experiments each quarter and share your learnings with the board.
9. Communicate challenges and opportunities transparently with investors. Specifically, share positive and negative quotes and customer trends in board decks.
10. Build the CS team structure based on customer tiers, journeys, and volumes. For instance, set different CSM ratios and responsibilities according to customer segments.
Check out the full video below: