Virtual Team Building Activities During COVID-19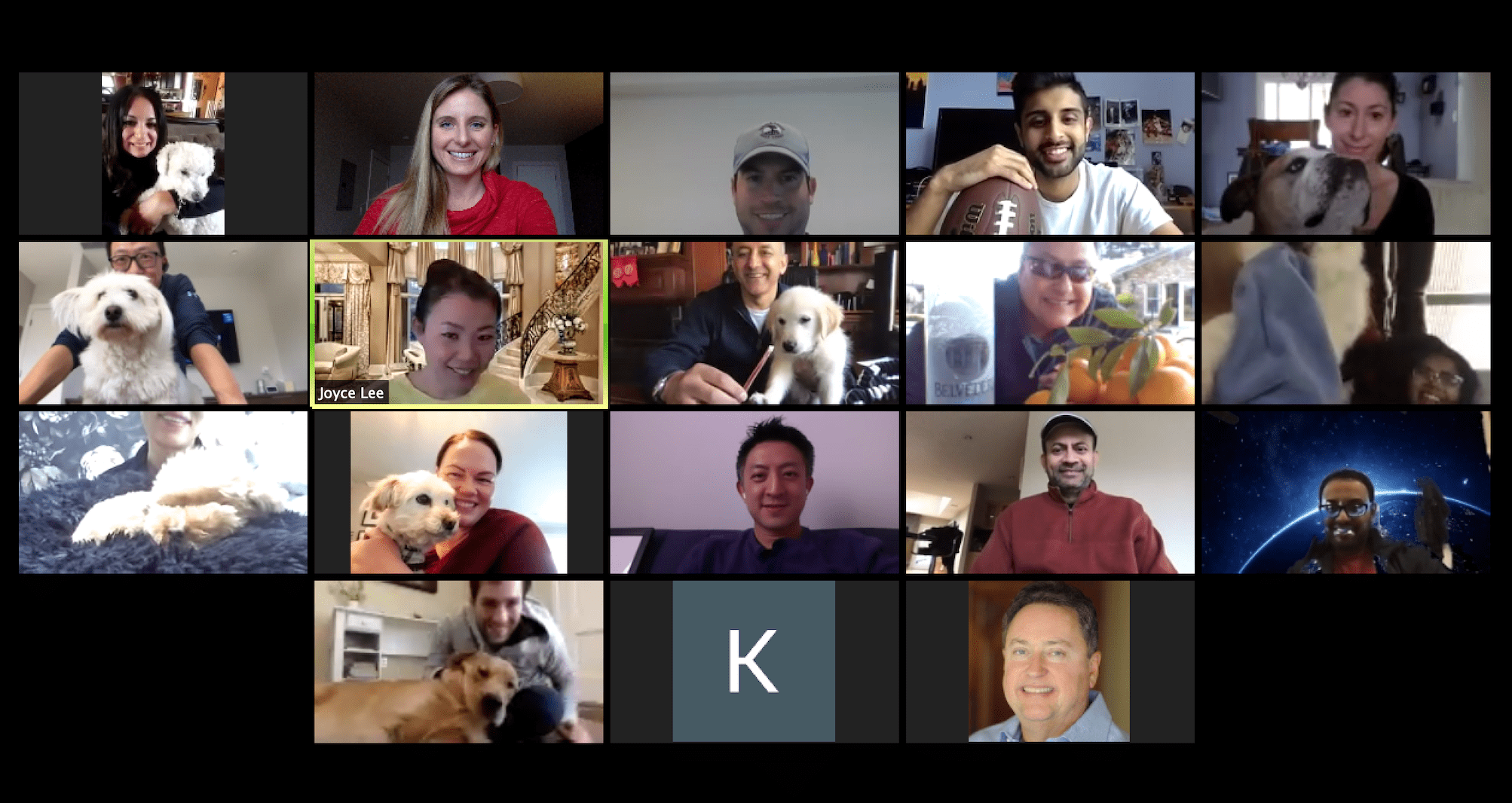 The sudden shift to working from home during COVID-19 has changed the way teams work and play together. A change many initially expected to last a few weeks has now been in place for months, with some companies expecting to go fully or partially remote permanently.A common challenge we hear from our portfolio companies and see within our own team is how to preserve company culture and the "fun" elements of the workplace while everyone is distributed.We have found at Sierra Ventures that planning regular activities is a good way to keep remote teams engaged and add a little excitement to the work week. We've done a combination of recurring weekly activities, happy hours, virtual games, and "challenges" to keep things interesting.Below is a curated list of activity ideas our team has tried and enjoyed. We've included email templates for some of the more popular activities that you can use for getting activities started with your own team. Weekly ActivitiesPut regular activities on the calendar that the team can prepare for and look forward to each week. We recommend spacing activities out so there is something every other day.
Meme Monday - send your favorite meme to the team on Slack or email each Monday to kick the week off on a light note.
Workout Wednesday - host a 30-minute virtual workout session in the late afternoon (say 4:30pm) each Wednesday. Make workouts bodyweight only so no special equipment is needed. Keep workouts "all levels" and rotate workout types between cardio, HIIT, and yoga so there is something for everyone.
Virtual Happy Hour - schedule a happy hour with the full team - or per department if you have a large team - at a convenient time (we do 2pm on Fridays). We have found that 30 minutes is a good amount of time for these. Have team members submit fun questions in advance of the call so you have 1-2 topics to discuss. Some questions we've enjoyed include:
What was the first album of music you bought?
If you could visit one place you haven't been where would you go?
What are your favorite shows/movies right now?
What is your favorite board game of all time?
If you were to open your own business, what would it be?
Fitness Tracker - create a Google Doc for your team to track their weekly fitness activity. Encourage a goal of doing 20 minutes of fitness activity a day for 5 days out of each week.
Team Gifts (occasional, not necessarily weekly) - send each team member a special treat to their home to let them know the company is thinking about them and appreciates their work. Gifts can be candies, coffee, useful items, etc.
Special Activities with PrizesHave one "special" activity each week or every other week that requires team members to do something offline and vote on winners. The top 2 winners chosen for each activity can win a $50 gift card or another prize. For our team, if there's a tie for 2nd place then all 1st and 2nd place winners receive a gift card.See below for some activities we've done and enjoyed. Feel free to copy and paste the instructions directly into an email to customize for your team.Who's That Baby?!
Find a photo of yourself as a baby (this may require a bit of digging or calling your siblings or parents!) If you don't have or can't find a photo, draw one to submit.
Send the photo to [NAME of person collecting] via email by DATE.
Photos will be compiled and a Google Forms link will be sent out for everyone to write who they think each photo is.
Babies will be revealed on [DATE] along with the winner(s) - people who guessed the most photos correctly.
Where in the World?!
Find a photo of yourself in a unique place you've traveled.
Send the photo with a hint about the location and the name of the country (or state if in the US) to [NAME of person collecting] by DATE.
A Google Survey will be sent out for you to guess where in the world the submitted photos were taken. You get a point if you guess the right country (or state).
Winners will be announced and everyone will share their travel story during the meeting on DATE.
Recipe Roundup!
Pick your favorite recipe or something new you've made during shelter in place that you've enjoyed.
Make the meal and send the recipe and photo of the meal to [NAME of person collecting] via email by DATE.
Recipes will be gathered and made into a "Quarantine Cookbook" and a Google Forms link will be sent out for everyone to vote on the best recipe.
Check out the Sierra Ventures Quarantine Cookbook.
Taco Tuesday
Support your favorite local taqueria by buying some tacos for lunch or dinner. If it's too busy for takeout you can buy some ingredients to make your own Tacos at home.
Take a photo of your meal and send to [NAME of person collecting] via email. Please include the name of where you got your meal.
Save your receipt and you can expense the meal with the description "Taco Tuesday - DATE (Your Name)".
Enjoy your tacos!
A Google Form link will be sent out for everyone to vote for the best looking photo/tacos.
Check out the recap of Sierra Ventures' Taco Tuesday.
[Company Name]'s Next Top Model
Dress up in your finest "Haute couture" outfit. It should be a little ridiculous and over the top like the outfits runway models wear.
Strike your best supermodel pose for a photo (photo can be a selfie or someone can take it for you).
Submit the photo to [NAME of person collecting] by DATE.
A survey will be sent out for people to vote on their TWO favorite photos.
Winners will be announced on DATE.
Submit an Activity Idea
Send an email with 1-2 activity ideas to [NAME of person collecting] by DATE. Note: Ideas should be something that can be done remotely and be voted on in some way.
Ideas will be compiled and a survey will be sent out for everyone to select their favorite activities (choose up to 5).
The submitter(s) of the top voted activities will be announced on DATE.
Additional Activity Ideas
Pet Profiles - show baby/early and current photos of your pet along with a short profile (i.e. "10 things to know about [Pet Name]"). This could be their favorite treat, weirdest thing they ever tried to eat, sweetest moment, goofiest moment, naughtiest moment, etc. If you don't currently have a pet you can profile a pet you've had previously or share information about a pet you'd like to get.
Creative Coloring! - pick one adult coloring picture and have everyone color the same picture for a contest.
Quarantine Cocktail / Mocktail Book - have everyone share a homemade drink recipe and make it for your Happy Hour call. The drink can be either alcoholic or non-alcoholic drinks like smoothies, fruit teas, etc.
Kitchen Creations - have everyone (attempt) to make something they wouldn't normally make (like donuts or pizza) and send photos in to vote on a winner.
Egg Drop Challenge - create small structures around an uncooked egg in order to protect the egg from a high fall onto hard ground. Each person is given specific items they can use to build the structure that protects the egg, but nothing more. Have everyone test out their egg drop contraptions on a virtual call to find the winning structure.
Remote Walk - have everyone get on a Zoom call on their phone and take a walk around their neighborhood. One by one, each person flips the camera to show what their "walk around the block" looks like and what their favorite hangout or stop is.
British Bakeoff - have everyone bake something (like a showstopper cake), and the person with the best looking baked good wins a prize.
Online Games - play online trivia or win/lose/draw for a few rounds during a happy hour call. Divide participants in breakout rooms to get smaller groups interacting and sharing. We had a great time with this when Grace Chen on our team led and Emoji Trivia session for our Happy Hour!
Flashback - have everyone pick a photo from high school and share the story behind the photo during a team call.
Virtual Vacation - with so many vacation plans being canceled and postponed, have your team take some time to go on a virtual vacation. Have people submit a vacation-themed photo of themselves and their family/friends on vacation and tell the story behind it during a group call.
Drawing Game - put your team's artistic skills to the test! Drawsaurus.org has a virtual drawing game you can do with your team remotely. Use their "create room" option to create a private room for your team.
MTV Cribs [COMPANY NAME] Edition - this activity gives a peek into everyone's home life - now that we spend so much time there! Team members are asked to film or conduct a live tour of their homes House Hunters or MTV Cribs style.
Build a Storyline - as a happy hour game, have one person begin a story with one complete opening sentence and another incomplete sentence. For example: "On my first day at work, my car broke down. At first, I felt helpless, but then I…" Go around the group and have everyone complete the previous sentence and add a new incomplete sentence for the next person to finish.
Zoom I-SPY - this game relies on a good eye and the whole team being on video. Team members take turns choosing something they spy in the grid of faces while everyone else tries to guess what it is.
Netflix Party - the popular streaming service recently announced a Google Chrome extension that allows groups to view a show at the same time while being able to chat about it. Pick a show or movie and have the team watch it together.
More Virtual Games - Jackbox Games has a suite of virtual game options that can fit any number of players. Check out their website to see their selection of games.
Gift Activities It's always nice to get a surprise in the mail! These activities incorporate a gift for your team so they know they're being thought about.
Wellness Week - have a wellness week where you put together a "care package" to send to everyone and encourage them to take time out for themselves.
Family Game Night - have team members pick a board or card game they've always wanted to play and send it to their homes to play with their families, roommates, or friends. Have everyone share their experience in the next group meeting or happy hour.
Family Picnic - send a picnic basket to everyone to enjoy a picnic with their families.
Book Club - pick or have everyone vote on a book for the team to read and send a copy to everyone. Have a "book club" discussion call with the group after everyone has had a chance to read the book.
Professionally-run Activities and Team BuildingMany companies are offering facilitated virtual activities for teams to stay connected. We haven't tried any yet but a few that have been recommended to us are:
Hopefully this gives you some ideas for ways to keep your team connected and engaged. If you have any questions or want to chat about ideas for your team reach out to Allie Klun at allie@sierraventures.com.Enjoy!
Looking for more tips for your business? Check out our 5 Fundamental Sales Strategies During COVID-19 blog post.